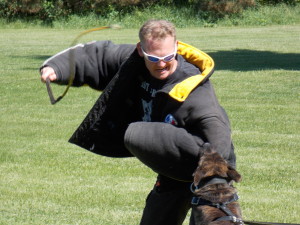 Blue Line Police K-9's K9 Decoy course is designed to teach a Law Enforcement K9 Handler to be a successful aggression K9 Decoy.  The K9 Officer will learn the knowledge and skills required to understand the different drives in dogs and their behavior.  The K9 Officer will learn different techniques to teach the Police K9 protection and physical apprehension.  The K9 Officer will learn to safely take bites from a Police K9 and utilize various equipment.
Instructor: John Skalski
Instruction Hours: 16
If you are interested in attending this class, scheduling a training seminar, or have any questions, contact us.
Click Here to return to the Services page